Toekomst?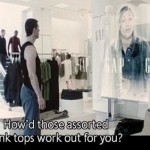 Scene uit de film Minority Report: Anderton vlucht weg, nadat er een voorspelling is gedaan dat hij een moord gaat plegen. Onderweg komt hij langs veel plaatsen waar hij gepersonificeerde aanbiedingen krijgt. Een mooi manier om te laten zien, dat vluchten eigenlijk geen zin heeft, want men weet waar je bent…. Verre toekomst? Nou, niet meer.
Dataverzamelen via audio codes
Vandaag hield Tim Farmer van Ipsos een interessant maar ook angsaanjagend verhaal o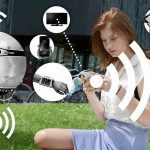 ver data verzamelen via de mobiele telefoon. Ze hebben een app ontwikkeld, bedoeld om te onderzoeken of de bezitter in contact gekomen is met een bepaalde reclame-uiting. Aan de reclame-uiting is namelijk een audiocode toegevoegd die door de luidspreker van de telefoon opgevangen wordt. Hierdoor is bekend, wanneer, hoe vaak en waar iemand in aanraking is gekomen met de reclame. Bij de pilot is aan het eind van het traject een vragenlijst afgenomen om meer te weten te komen over het merkbeleving en de neiging om het product te kopen.
Uitkomsten
Een interessante uitkomst was dat de mensen die wel in aanraking geweest waren met de uiting, maar dat zelf niet (meer) wisten, een positievere merkbeleving hadden, dan de mensen die niet in aanraking waren gekomen (en dit ook correct aangeven). Mensen worden dus (onbewust) beinvloed door de reclame.
Voordelen
Op zich een mooie manier van onderzoek doen, de deelnemer is zich niet bewust wat er onderzocht wordt en er is dus minder bias. Hij hoeft er geen extra inspanning voor te doen (behalve zijn telefoon altijd bij zich te hebben) en de data is direct beschikbaar. Je zou het bijvoorbeeld ook kunnen gebruiken om de reclamecampagne te beeindigen als meer dan 70% de reclame meer dan 5 keer gehoord heeft, eventueel zelfs met een aantal condities, zoals dat er weinig voorgrondgeluid was.
Vraagtekens
Aan de andere kant… Zo'n app verzameld aardig wat informatie over de gebruiker, en kan in potentie je hele leven registreren. Het vraagt veel vertrouwen in de onderzoeker of naiviteit van de gebruiker. Ik ben benieuwd of dit een onderzoeksmethode gaat worden, die breed ingezet kan worden in een dwarsdoorsnee van de bevolking. En als dat zo is, hoe de deelnemers verleid gaan worden om mee te doen. Een incentive van 20 eur om 3 maanden gevolgd te mogen worden, lijkt mij niet voldoende.